"Fearless lives forever."
★★★★★
For those of you that have seen Bohemian Rhapsody on the big screen you'll get it when I say it's incredible and that it's an honorable tribute to one of the world's most recognisable and loved rock stars.
While it was a lot longer than I expected – clocking in at around 2hrs 30mins – it didn't matter, because sitting there in the dark room staring up at the big screen I found myself not wanting it to end, I wanted it to keep going even though, as we all know, Mercury's story doesn't have the happy ending the silver screen usually promises us.
Even though the story was approved by the surviving members of Queen, the biopic has received some criticism for changing events just to add drama, and for some historical inaccuracies. But in my opinion, this doesn't alter the feeling of being there, the feeling of watching it all begin, the feeling of goosebumps as we listen to the crowd at live aid interact with Rami Malek's portrayal of Freddie.
I found the insights into Mercy's home life and the beginning of his career enlightening, there were things I didn't know about him. For instance, I didn't know that he was born with four extra incisors and I didn't know how experimental Queen were in the recording studio at the beginning. From eccentric outfits and hairstyles to that signature moustache we know so well. It was incredible to watch their careers unfold before my eyes, from their humble beginnings to playing in front of and to billions of people around the world at Live Aid.
I just can't believe I waited so long before going to see it, and if you haven't already I'd highly recommend it.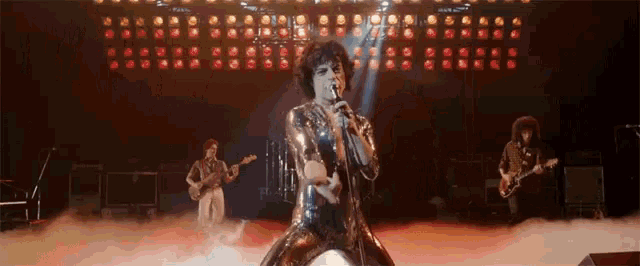 (Featured and footer Image, credit to owner)